No Chemicals

Just digging up rocks is simply not enough to extract the elements and minerals sought after. 99.9% of the time the raw ore has to be processed both mechanically and chemically to obtain the materials needed to make a finished product.

Cyanide

Recovery of gold by cyanidation is constantly under scrutiny due to the toxic and poisonous nature of cyanide. Aqueous solutions of cyanide degrade rapidly in sunlight, but less-toxic products, such as cyanates and thiocyanates, may persist for some years. Ninety (90%) of all gold produced is subjected to cyanide processing at some point, with the heap leaching model being the vast majority of those occurrences. The US states of Montana and Wisconsin the Czech Republic, and Hungary have banned cyanide processing all together.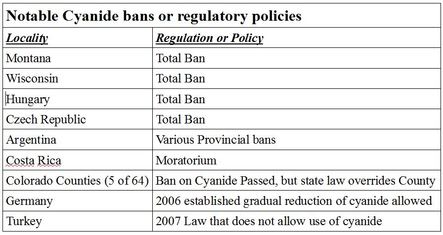 For high ore volume, low grade gold projects cyanidation is cheap, effective, and almost biodegradable (with the help of additional toxic chemicals). Chemical based alternatives to cyanide are in most cases more toxic than cyanide, due to higher consumption rates and toxic support regents for pH and oxidation adjustments. Bacterial leaching for high ore volume projects is expensive,slow and can produce toxic chemicals during the process.