Water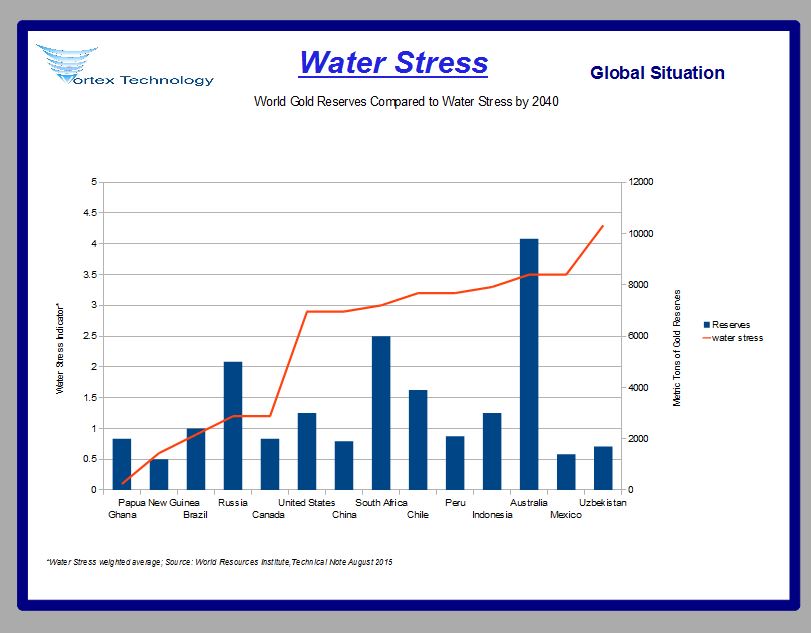 Water Stress and fresh water scarcity are major concerns for governments, corporations, and investors. The mining and metal producing companies are at the forefront of this concern and stress.
Many water stressed countries have vast mineral deposits which if exploited will create great wealth from these projects. One example is the Gobi desert in Mongolia which has vast deposits of precious metals, copper, uranium and rare earth elements (REE's). The Gobi is very cold and dry in the winter and receives only minuscule amounts of rain in the summer. The area is Asia's largest desert, most dry area and one of the most mineral rich areas. The South American country of Chile is also a heavily water stressed area. Nearly 1/3 of the Chilean governments revenue comes from copper mining concerns. However the mining industry is "Leaving all of Chile without water" says
Rodrigo Villablanca, indigenous leader of the Diaguita Sierra Huachacan community in northern Chile.
Using freshwater sources for mineral processing is a major concern for regulatory and the mineral producers themselves. Currently if a project runs out of water or is limited to water consumption, the project mine life can be shortened and in some cases completely halted. This leaves behind Stranded Valuable Metals (SVM), which leads to investor disapproval via the bottom line. Freshwater makes up a very small fraction of all water on the planet. While nearly 70 percent of the world is covered by water, only 2.5 percent of it is fresh. The rest is saline and ocean-based. Even then, just 1 percent of our freshwater is easily accessible, with much of it trapped in glaciers and snowfields. In essence, only 0.007 percent of the planet's water is available to fuel and feed its 7.3 billion people.
WATER IS CRITICALLY IMPORTANT TO HUMAN EXISTENCE.
IF IT IS NOT GROWN, IT'S MINED
Humanity needs water to survive. Humanity also needs resources mined from the earth to maintain a modern existence. The challenge is how to distribute, conserve and manage the freshwater currently available for consumption.

Vortex Technology through the use of its DAC technology is helping to address this very issue of water stress.
---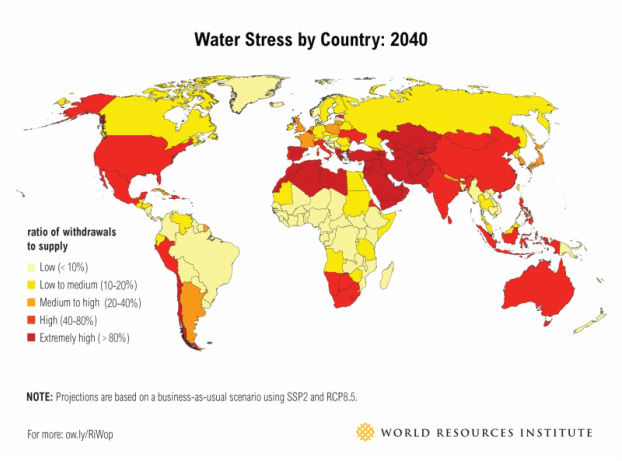 Water Stress by Year 2040
http://www.wri.org
---
Related Links: